Counseling is in Amerika heel normaal. Een adviseur een klankbord, iemand die zonder oordeel naar je luistert, zet je af en toe weer in het juiste spoor. Daarnaast kun je psychosociale vraagstukken uitwerken met je counselor.
Counseling en coaching leidt tot: weer in je kracht komen, meer zelfvertrouwen, rust in je hoofd en meer energie.

Counseling
Counseling is laagdrempelige psychosociale begeleiding bij allerlei klachten zoals vaak te moe, je bent niet zo actief, alles is je teveel, je slaapt slecht, je kunt je niet goed concentreren, je hebt sneller conflicten, je hebt terugkerende pijn bijv. in je schouders, hoofd of nek. Een counselor zit tussen een coach en psycholoog in.
Het counselingstraject begint met een intake. Ten tweede worden er doelen bepaald. Ten derde wordt de strategie bepaald om d
e doelen te realiseren. Tijdens het counselingstraject kunnen de doelen bijgesteld worden. Bij counseling wordt er inzet gevraagd van de cliënt. Ben je bereid om met je problemen aan de slag te gaan? Dan is counseling iets voor jou.
Voorbeeld situaties waarbij counseling goed kan helpen:
Overspannenheid en burn-out;
Emotionele problemen;
Chronische vermoeidheid;
Traumaverwerking;
Problemen op het werk;
Communicatieproblemen en conflicten;
Relatieproblemen;
Leermoeilijkheden;
Rouw en verlies;
Slaapproblemen en concentratieverlies;
Klachten van depressieve aard;
Vage lichamelijke klachten;
Levensvragen en zingeving;
Moeite met veranderingen;
Angsten;
Te weinig zelfvertrouwen;
Counseling is strikt vertrouwelijk en valt onder het beroepsgeheim. Ook wanneer het counselingstraject vergoed wordt door
een derde partij, zoals een werkgever, wordt niets uit de gesprekken besproken met deze partij zonder jouw uitdrukkelijke toestemming. Een counselor is een raadsman, personal coach, mentor, begeleider, gids, hulpverlener. Met counseling krijg je een positief duwtje in de rug.
Coaching
Bij coaching gaan we met jouw probleem aan de slag. Ik help je om er anders mee om te leren gaan met inzichten en tips. Het is een manier van gesprekken voeren die laagdrempelig is. Het is bedoeld voor gezonde mensen die tijdelijk niet goed in hun vel zitten en mensen met een burn-out. Zelf heb ik ook een burn-out gehad, het is zwaar en ik weet wat het is. Het kan een aanleiding zijn om het roer om te gooien en meer voor jezelf te kiezen.
Heb je klachten of problemen bijvoorbeeld door: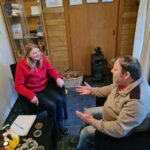 We gaan samen op zoek naar  hoe we jou weer in je kracht krijgen, hoe je meer energie krijgt. Je leert welke sterkte punten je kunt inzetten en wat je valkuilen zijn en hoe je ze kunt vermijden. Dat doen we door te praten, oefeningen en thuisopdrachten.
Twijfel niet aan jezelf. Jij bent goed zoals je bent! Je hoeft helemaal niet veel te veranderen, alleen hier en daar bij te schaven om weer gelukkig te zijn. De inzichten die je daarbij nodig hebt, help ik je ontdekken. Je komt meer in je kracht te staan!
Het mooiste aan counseling en coaching vind ik dat ik mensen zie groeien. Ze gaan zichzelf meer waarderen. Door te kijken naar waar je nu tegenaan loopt, krijg jij het inzicht dat je nodig hebt om je weer goed te voelen. Daarnaast geef ik handvatten zodat je weer energiek en ontspannen kan zijn. Dat ik mag meehelpen aan hoe jij weer gelukkig wordt, vind ik een groot voorrecht.
Bij angsten, trauma's en PTSS zet ik vaak EMDR in of regressietherapie.
Wil je ook meer rust en ruimte in je hoofd? Neem dan contact met me op via tel. nr.  06 57 33 77 55 of  mail naar info@primeres.nl.
Reacties van cliënten: [slideshow_deploy id='3097′]