Individuele begeleiding:
Consult voor particulieren:  vanaf 1 jan. 2021: € 88,00 per uur, Afrekening vindt plaats direct na het consult per pin of  contant.  *) **)
*) Vergoeding: sommige behandelingen (psychotherapie, hypnotherapie, lichaamsgerichte psychotherapie en overige natuurgeneeskunde) worden gedeeltelijk vergoed, afhankelijk van welke zorgverzekering. Zie hier welke verzekeraars (naar beneden scrollen) de therapie vergoeden, kijk bij level 3. Afrekenen direct na het consult (contant of pin), de nota kun je indienen bij je verzekeraar.
**) Afspraken wijzigen of annuleren? Stel ons 24 uur van tevoren op de hoogte, doe je dit niet of verschijn je niet dan betaal je de gereserveerde tijd.
Zakelijke opdrachten:  trajecten worden op maat gemaakt, het tarief is daarom in overleg.
Kvknr. 37152064
Ik ben aangesloten bij beroepsvereniging CATComplementair (level 3) en GAT Geschilleninstantie Alternatieve Therapeuten.
Mijn CAT registratienummer is CAT CM0029-09-07-18.
Klik hier voor de betalingsvoorwaarden.
Wil je andere geneeskundigen vinden in jouw regio kijk dan hier: Alternatieve Geneeswijzen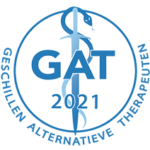 Ik val als CAT-therapeut onder Wkkgz-klachtrecht en tuchtrecht bij de Geschilleninstantie Alternatieve Therapeuten (GAT). GAT is een rijks erkende en volledig onafhankelijke Wkkgz geschillencommissie. Voor meer informatie over mijn klachtenregeling zie: https://gatgeschillen.nl/
Ik werk als CAT-therapeut volgens de richtlijnen van de GAT-beroepscode. Voor meer informatie zie: https://gatgeschillen.nl/beroepscode/